How to Announce your Wedding Postponement to your loved ones?
For all of those couples who are currently faced with the reality of postponing or cancelling their weddings in light of the COVID-19 pandemic, our hearts go out to you. The effects of the coronavirus crisis have been devastating on so many levels that it's hard to know where to start.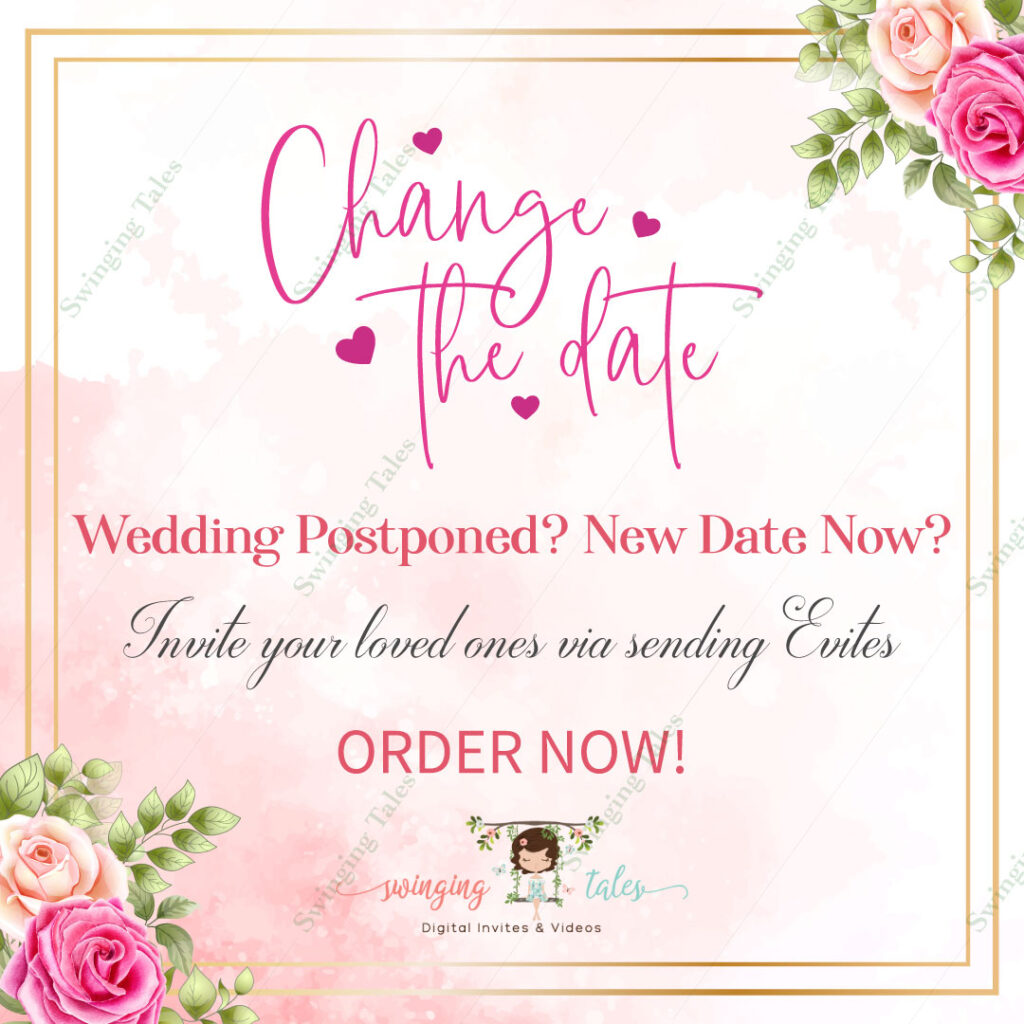 We understand it's an incredibly emotional decision to have to put on hold something you have planned and waited for months, if not years! While the situation is pretty bad, there's no need to panic and stress about postponing your wedding- it's okay, this too shall pass! Everyone is going through it, and we're all going through it together. So if you're dreading sending out that wedding postponement announcement here's some ideas on –
How to spread the postponement of your big day to your friends and family!
If you're struggling to get the correct wording, here are some creative ones we've created just for you!
In lieu of the current situation, we consider our guest's health and safety is the most essential. We decided to elope and we're postponing our wedding celebration to later date. We will inform you asap with our new plans. Until then, please stay safe and healthy.
A lot of things are very uncertain at the moment but one thing is clear – we are so excited to celebrate our wedding day with you. However, after talking it over, we've decided to postpone our special day until we can properly celebrate together. When hugging, kissing and dancing in close circles is allowed again we will set a new date and be in touch. Until then, stay safe.
Your health and our health is the highest priority, so we're rescheduling our wedding. We'll let you know when we'll be celebrating soon, but for now, please join us in keeping our world safe."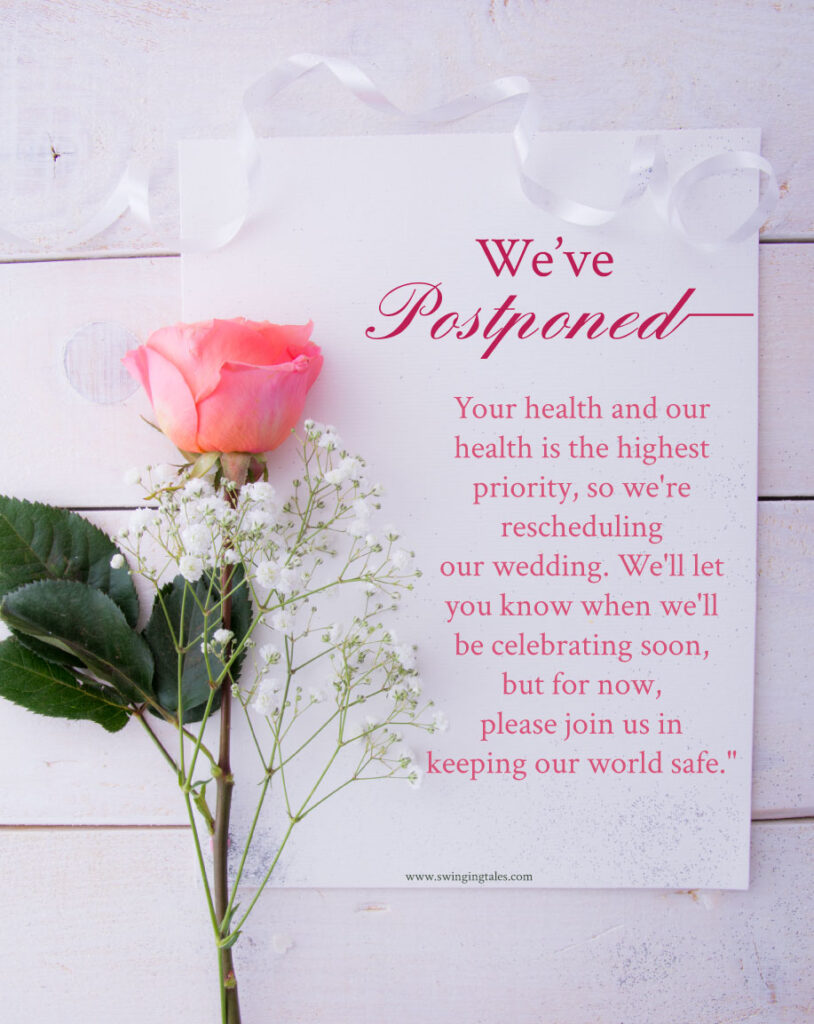 After careful consideration, and in light of the current situation around the world, we've made the difficult decision to postpone our wedding celebrations that were to take place on (Date). The health of all our loved ones is our priority and we want to wait until it's safe for everyone to attend. We will be sending out more details in the coming weeks.
We are heartbroken to say that our wedding has been postponed. Rules and regulations have been put in place and we respect the situation is completely out of our hands. The health of our family and friends will always come first. We will reach out with more details once we have set a new date.
Due to high risk to the health of our family and friends, the wedding of (Name) to (Name) will not take place on (Date) as originally planned. A new wedding date will be announced as soon as possible. If any of you have any questions about your accommodation arrangements, please let us know.
For the safety of our loved ones, we have decided to wed with a private ceremony. We plan to have a reception to celebrate with everyone at a later date. Thankyou for your continued love and understanding!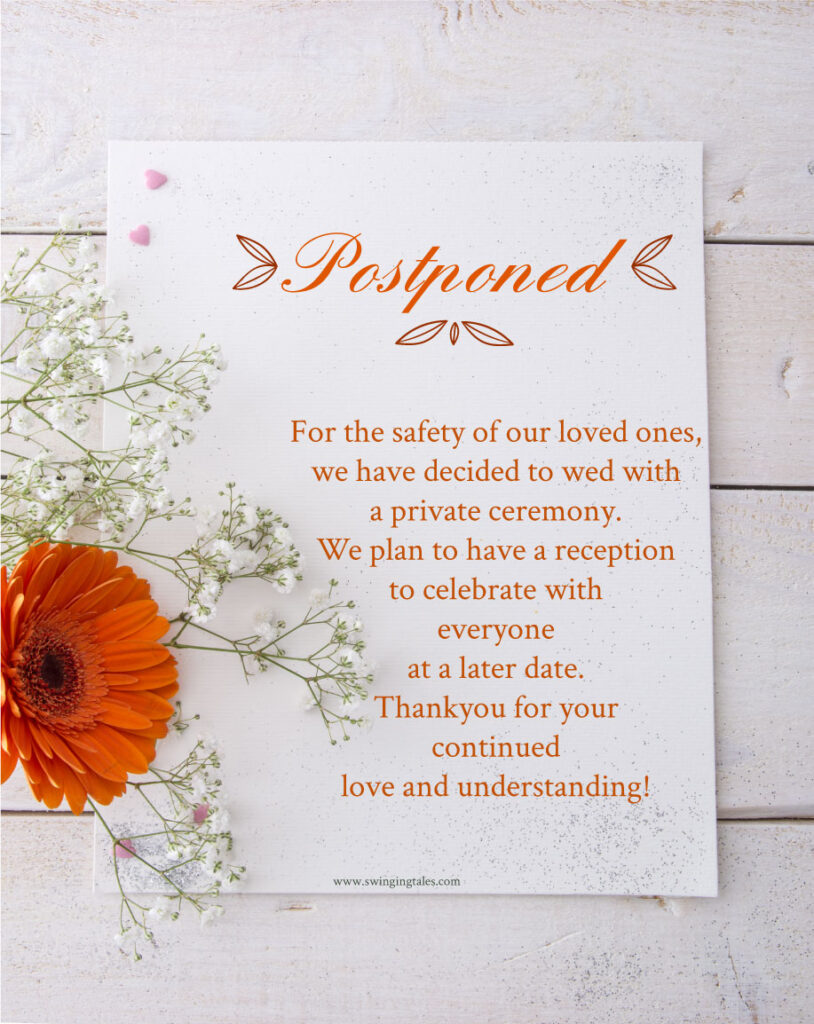 We're so excited to celebrate with you. But we need more time to get everything perfect for our big day…and practice our dance moves. We'll be in touch soon with our new date and other wedding schedule.